WEEK IN REVIEW JUNE 29 TO JULY 5, 2020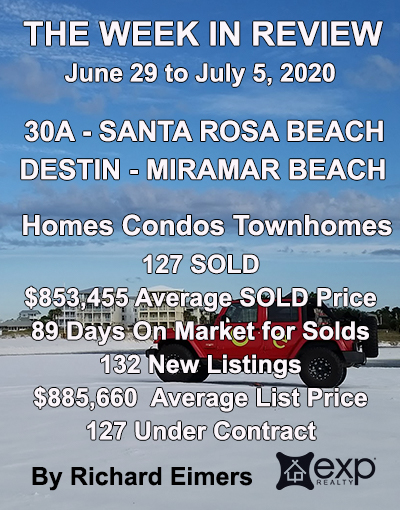 Ladies & Gentlemen we have a SPIKE.
As of April 12, we have witnessed 2 significant Spikes. 1st are the sold & closed properties Spike and 2nd there is the inverted pending sales spike.
The sold & closed Spike, since May 22nd we've been experiencing a steady increase in closings, June 12 to June 28 the trend line grew steeper with a 34% increase and then in the last 7 days we've experienced a 60% spike in closed sales.
The inverted Spike we experienced this week was in properties under contract, after 11 straight weeks of increasing Pending sales, this week we experienced a 60% drop in Pending sales which will affect the trend line for the not so distant closings.
Question: what is the impetus behind the decline in pending sales is the total lack of inventory and that July 4th holiday is not a real estate holiday, never was. On the heals of the disappointing pending sales is the Days On Market since March 21 have been declining to where we are today at 89 pending sales, the lowest it has been since May 1st.
Please keep in mind that this data is exclusively for inventory in the Destin, Miramar Beach, Santa Rosa Beach, 30A, Inlet Beach & Point Washington market areas. I personally harvest this data with no bias directly from our Local MLS, I ran this data today, June 29, 2020 @ 8:38am, is deemed to be reliable, but is not guaranteed. Please view the graphs below.
I have been a Florida Licensed Realtor for over 24 years, have SOLD more than $550,000,000 worth of every kind of real estate from Pensacola to Destin to 30A and Panama City Beach. With over 20 years....